L.A. Frame Co. is located in Green Brook, New Jersey, about 20 miles southeast of Newark and not far from New York City. We have a wide range of products available for the custom framing of paintings and works on paper, photography, needlework, collectibles, sports memorabilia and more.
We believe that the right framing can renew and complement the appearance of any artwork. Our custom frame designers can walk you through the creative process, developing unique display options for your cherished pieces that improve and enhance the overall look of the finished product. All within your budget.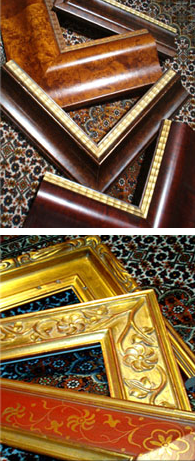 We have more than 1,500 different frame corners from which to choose.
Our framing techniques and styles include:
Welded Steel
Anodized Aluminum
Exotic Hardwoods
Hand-Carved and Gilded Frames
Shadow Boxes
Acrylic Display Boxes
Hand-Wrapped Fabric Mats
Hand-Ruled French Mats
Whether you want an ornate flair for your wall hanging or a more subtle, simple look, call L.A. Frame Co. to find the custom framing solution to suit your needs.