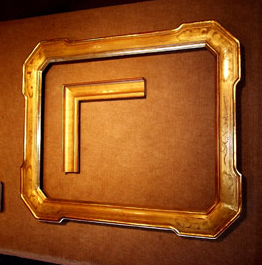 Decades of exposure to home air, dirt, dust and sunlight can wreak havoc on your antique framing. Whether it's a cherished wooden frame around a favorite artwork or a classic find that you fell in love with at an antiques sale, restoring the look and color of a frame is an intricate and intensive task. Depending on the damage, the needs of your frame may be more or less involved, but no matter the issues, the team at L.A. Frame Co. can help.
Our restoration experts have worked with a wide range of intricate designs, fragile woodwork and cracked or broken frames throughout the years. With a delicate touch, we work to restore the original look and luster of your antique frame, removing the effects of time on your frame. This includes stabilizing weakened elements, rebuilding sections that may be too damaged or worn to retain, and refinishing the product when the original shine cannot be restored with a thorough cleaning. Odd shapes, intricate patterns and unique designs are no problem for our team.
For more than 40 years, we've helped clients bring back the original beauty of their classic frames, repairing defects, cleaning away grime and reversing the fading of decades of sunlight exposure. Restoring your frame does more than just make it look better, it also helps protect your frame's value. Fresh polish and stabilization can preserve your frame's condition and help it weather decades more as a valued display in your home or office.

For more information on our restoration processes and services – including painting, paper and textile restorations – contact us today!